Available Jawi Software (Offline)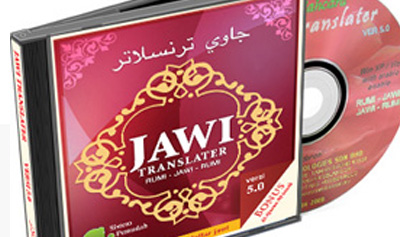 Jawi Translater Ver5.0 (Next-Q)
Jawi Translater CD, is the development of customized software with Microsoft software, where users can type in the Jawi script into Latin or vice versa with a single click away. Work on the preparation of working papers by students and teachers or the provision of paper by teachers and lecturers in the Jawi script would be very easy to use software.

For more information, please visit this SITE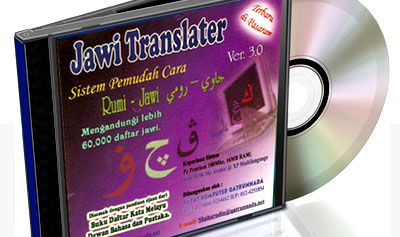 Jawi Translater : Sistem Pemudah Cara Rumi - Jawi dan Jawi ke Rumi
Jawi Translater developed to enable students and teachers or printing companies use this software to make alterations to the writings of Rumi to Jawi or Jawi to Rumi, or from using a variety of word processing software on the windows in Microsoft Word or WordPad .

With this software you just need to write the Latin script and let the software convert to Jawi script. Too easy and fun. If you have articles or any text in Word or the Internet as a collection of Friday sermons in the form of malay roman. You just copy this into the software and then it will convert into the Jawi script.

Similarly, if we have 40 or more pages of thesis or any article in the form of the word copy in the software to be converted into the Jawi script. 40 or 50 pages of text conversion only takes 2 to 3 minutes. This software is very suitable for students or teachers to make questions in the Jawi or for students to practice jawi script.
For more information, please visit this SITE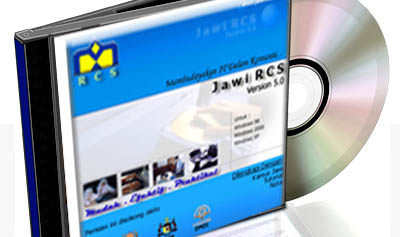 Jawi Translater Ver5.0 (Next-Q)
Jawi RCS V.5 developed specifically for those who love the art of writing Jawi one time had dominated the literary language of the Malay world. This software has also been tested for their effectiveness through training, held around the state of Malacca. About 50 thousand students from religious schools Jaim trained to use the software.

RCS Operation V.5 Jawi using standard Windows without Windows Arabic. This software provides three types of text Jawi, Arabic and Latin, and it can be applied without the use of bilingual keyboard.

The function and operation of the RCS Jawi V.5 using MS Word tools that are available without changing any direction and can be used in Power Point, Publisher and others. Technical edit, copy and paste is the same as those found in Microsoft Office applications.

For more information, please visit this SITE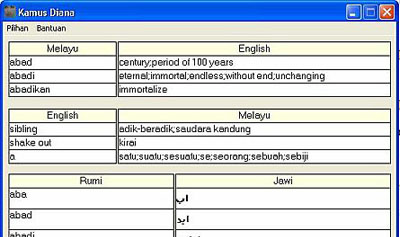 Diana Dictionary Software
Diana Dictionary is a dictionary of translations of
1. Malay - Bahasa Inggeris
2. Bahasa Inggeris - Malay
3. Rumi - Jawi.
It's very easy to use because the search for all purposes be done directly on the process of typing. In addition, searches can be performed simultaneously for all three translations. Search words or Malay or Bahasa Inggeris 'Jawi alphabet' only be done through a text box provided.

For more information, please visit this SITE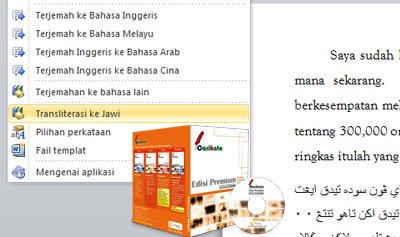 Carikata : eKamus Translator Software
The only eKamus Translator Software a Malaysian will ever need. Communicate with confidence & Eliminate all your Malay to English or English to Malay language problems once and for all with Carikata eKamus Translator Software. A software that was developed for professional translators from the National Institute of Translation (Institut Terjemahan Negara) now available for you and your family.

For more information, please visit this SITE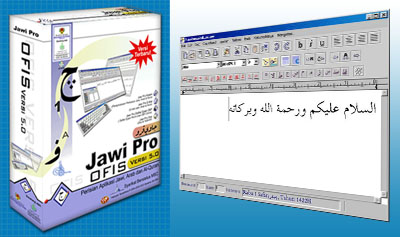 Jawi Pro Kalam ( Jawi & Arab Word Processing )
Jawi Pro Kalam ( Jawi & Arab Word Processing ) is an application to facilitate the process of typing, editing and printing using the Jawi, Arab and Rumi character.This is the easiest way to assists the typing Al-Quran Resam Uthmani. The application assists the user in many task of typing, editing and printing using the Jawi character. It also has a complete range of tools to format the Jawi/Arab & Rumi fonts such as size, font type, types of character, sequences, dwi-way typing and etc.

For more information, please visit this SITE
Available Jawi Application (Online)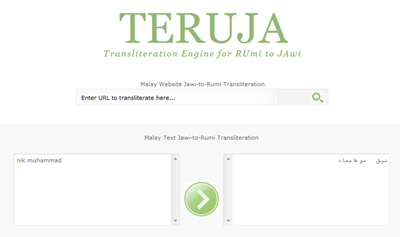 Transliteration Engine for Rumi to Jawi : UKM
TERUJA is a quality product from the Faculty of Information Science and Technology, Universiti Kebangsaan Malaysia. TERUJA is a abbreviation of the Transliteration Engine for Rumi to Jawi. By using the transliteration engine, it will be used in any software with web services methods.

This product has received the Gold medal at the International Innovation and Technology (ITEX'09) at the Kuala Lumpur Convention Centre on 15 to 17 May 2009.

For more information and to use this service, you can continue to address http://www.jawi.ukm.my. You'll be thrilled! Hopefully UKM will be advance in the creation and continued research on Jawi.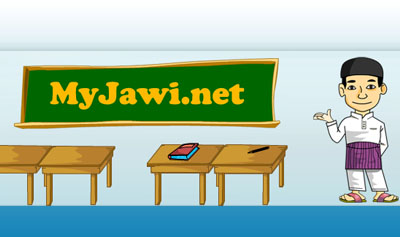 Myjawi.net
Myjawi.net is similar with our transliteration rumi to jawi version 1. However, there is no information about the author of this site. By using whois information, this site owned by Kamaludin Idrus from Selangor.

For more information, please visit this SITE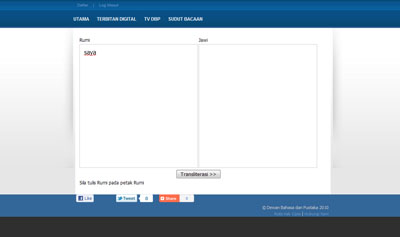 DBP : Rumi Jawi Transliterasi
This site also provide the transliteration engine from rumi to jawi using asp platform. Developed by Dewan Bahasa dan Pustaka (DBP). I don't know this is official site or not for DBP.

For more information, please visit this SITE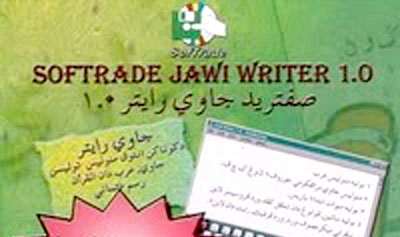 Softrade Jawi Writer Online/Offline
Includes all sets of Jawi letters and Arabic. Providing all the diacritics and special signs in the Al-Quran Rasm Uthmani. It does not require Arabic Windows, - Typing Jawi / Arabic without requiring Arabic Keyboard. Choice of letters displayed on the screen. Provide "Cut, Copy & Paste". Writing can be exported to all kinds of "word processor" and "DTP Software" which allows the format RTF (Rich Text Format).

For more information, please visit this SITE
Ejawi Activities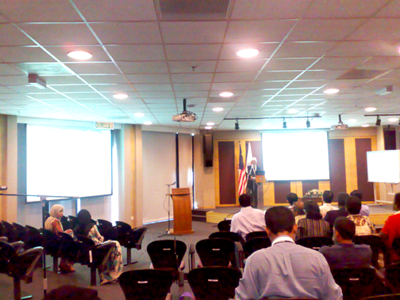 Internationalized Domain Name (IDN) Forum
9 to 10 July 2009 (Hons) - IDN Forum will gather experts and technical language has been held at the Malaysian Communications & Multimedia Malaysia organized. My Domain Registry in collaboration with MCMC has been implemented successfully.

This forum aims to identify the issues that are of linguistic and technical point of pursuing the implementation of internationalized domain name (IDN). The project will begin implementation of Jawi, Chinese and Tamil. More information you can visi idn.domainregistry.my

| | |
| --- | --- |
| Notis | Ejawi Converter 2.2 |
If you still want to use Ejawi Converter 2.2, you can still use the following links:
Ejawi Converter 2.2



| | |
| --- | --- |
| | Installing Jawi Fonts |
ݢ ۏ ڽ ڤ ڠ چ ک
If you can see the Jawi characters, this means your operating system supports the UNICODE standard, and a Jawi font.
However, if the letters in the out in a square or you do not know the letters that came out, this means you must install the appropriate font.
Click here to download the font supporting the Jawi letters.
| | |
| --- | --- |
| | Letters disjoin? |
ݢا بݢم ڠا چوما ڤکݢۏ
| | |
| --- | --- |
| | Register as a Member |
Register as a member of the community Ejawi to allow you to send comments, post and also submit entries to the blog. Sign up now !


A major application that has the capability of Bahasa Malaysia transliterated into Latin script and Jawi to Malay Roman. By using the new word list, now you can change jawi to roman / roman to jawi more accurately.

Free use


This tutorial is a new segment dedicated to those who want to learn Jawi. Through this application, you will be exposed to the connection method Jawi letters, forms a single point in a draw.

Free use

Another recent application Ejawi. Now you can convert any web page in a language (Latin) to complete the Jawi script. You only need to enter the url address and the application will change it for you without changing the design of the site. Try it yourself. The first of its kind in the world in the Jawi script.

Free use

Spelling Checker Jawi (Jawi Spell Checker) is an application that acts to detect the words that are considered one word and provide recommendations based on technical correction. There are various techniques that are commonly used, but for this prototype version, we are using Levenstein Technique (Edit Distance Calculation).

Free use